Orthodontics


At Southgate Dental Care we believe that orthodontic treatment , whether with fixed braces or "invisible " type aligners is best done by dental specialists.
We are very fortunate to have highly qualified orthodontists at Southgate Dental Care.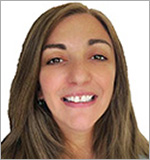 Dr Christina Evaghoras
BDS (Lond), MFDS RCS (Eng), MSc. (Orthodontics), MOrth RCS (Eng)
Dr Christina Evaghoras was educated locally before studying dentistry at Guy's Hospital. Christina qualified as a dentist in 1997. In the year that followed she worked at Guy's gaining further experience in maxillofacial surgery, children's dentistry and oral Medicine. A year in general practice was then followed by further experience in surgery and orthodontics.
Christina's passion for orthodontics earned her a place on the specialist training course at Guy's Hospital. She completed her Masters in Orthodontics from the University of London in 2003, and in 2004 gained the Membership in Orthodontics from the Royal College of Surgeons of England. Since then Christina has worked in specialist practice, providing orthodontic care to both children and adults. A number of years working with children with special needs and anxiety in a dedicated clinic have further enhanced her skills.
Christina aims to provide the best results for her patients, whether their problems are simple or complex. Adults and children alike are treated with up to date, evidence based orthodontics, including "invisible" or ceramic braces when appropriate.
Welcome to Our Practice!
Thank you for visiting our orthodontic web site. With a focus on orthodontics for children and adults for we specialize in providing outstanding state-of-the-art orthodontic care in an environment that is comfortable and friendly for all members of the family.
Our expert orthodontists and caring staff work hand in hand with patients to understand their goals and provide individualized care plans to achieve results. This includes early preventive care for young children and the latest in leading edge orthodontic technology.
We offer multiple orthodontic treatment options for both children and adults. Options include , traditional metal braces, clear braces, Invisalign® and much more. Getting braces is an important commitment to make, and we are here to help every step of the way during your orthodontic treatment experience.
Orthodontics and Braces
What is orthodontics?
Orthodontics is the dental specialty that focuses on the development, prevention, and correction of irregularities of the teeth, bite, and jaws. Orthodontists also have specialized training in facial abnormalities and disorders of the jaw. A parent may consult an orthodontist after receiving a referral from their child's general dentist. However, it is recommended that every child receive an orthodontic evaluation by the age of 7.
Why choose orthodontic treatment?
Any orthodontic problem may be classified as a malocclusion, or "bad bite." The following problems may be helped or minimized with proper orthodontic treatment:
misaligned, crooked, or crowded teeth
missing teeth
extra teeth
an overbite
an underbite
misaligned or incorrect jaw position
a disorder of the jaw joint
Is Orthodontics suitable for Adults?
Yes most definitely.
In most cases, the ideal age for braces, and other orthodontic treatments, is between 10 and 14 years of age. However moving and correcting the alignment of the teeth follows the same biological and physical process regardless of age and adult orthodontics is now very common and successful. Modern techniques have made orthodontic treatment more comfortable and shorter in duration; and less visible. Where appropriate invisible braces have made the wearing of braces much more acceptable for adults.
What are the different types of braces available?
Braces, also called fixed orthodontic appliances, generally come in three varieties:
brackets, metal or plastic, clear or tooth-colored, that are bonded to teeth
lingual-type brackets that attach to the back of teeth, hidden from view
bands that cover most of the teeth with metal bands that wrap around the teeth
'Invisible' type braces. The virtually invisible way to straighten your teeth and improve your smile without the need for fixed braces. Using a series of clear, removable aligners to move your teeth over time
General Information
There are a number of different types of fixed brace (the clinical term for a brace is an appliance). There is the traditional metal brace often known as train tracks. Recent technological advances have enabled orthodontists to offer more aesthetic braces which include the use of clear brackets; self-ligating brackets that increase speed of treatment and reduce total treatment time; and the invisible option, the lingual appliance, fitted to the inner surface of the tooth.
We use superior quality materials on all our fixed appliances to help get first class results
Fixed braces are the most common and effective way of straightening teeth.
Clear Aligners

We use the Invisalign system first patented in America. This type of appliance consists of a series of clear aligners which are custom made for each patient. Each aligner is subtly different and gradually by working through your aligners your teeth are straightened. The aesthetics of this appliance are excellent but it does not offer quite the same degree of control as fixed appliances, they work best in milder cases.
Functional and Removable Appliance
Functional Appliance
Functional appliances are braces which aim to modify the growth pattern of the jaw and as such they are only suitable in growing patients. They help to correct discrepancies between the jaw relationship. Functional appliances are usually removable; the most common is the "twin block" due to the presence of plastic blocks on the appliance. Some fixed braces can have elastics attached between the arches in order to obtain a good relationship between the two jaws.
Simple Removable Appliances
These appliances are usually used for simple tooth movements or movements which are difficult to achieve with a fixed brace such as pushing a single tooth over the bite or widening the arch. They are often a precursor to fixed appliance treatment.

What is orthodontic treatment
Patients who suffer from crossbite ... ... often have a classic V shaped arch. A removable appliance is custom made ... ... to fit the shape of each patient's mouth. Slowly, over months, it is expanded ... ... using the adjustment in the appliance. Finally, the arch becomes U shaped.

A bracket is fitted to each tooth. A wire is then connected to each bracket. Coloured bands secure the wire to the brackets. Many different band colours are available. Slowly, over several months, the wire is shortened ... ... pulling the teeth gently into line.
FIXED BRACE (TrainTrack)
Q
What is my brace made up of?
A
Your brace is made up of small brackets glued to your teeth. The brackets are handles used to hold your teeth and straighten them; the archwire, which runs through the brackets moves the teeth. We start with the most gentle archwire and gradually move up through five sizes. The archwire is held in place by tiny elastic bands, which come in different colours.
Q
Will it hurt?
A
It is usual for the teeth to be uncomfortable for the first few days after the brace is first fitted - stay with a soft diet and if necessary take one or two tablets of paracetamol or ibuprofen.
Q
What if bits break off?
A
If one bracket comes off then leave it until your next scheduled visit. If several break off then phone for an appointment to have the brace repaired.

Often as the teeth move the archwire sticks out at the back. If this scratches your cheek come in to have the end cut off (ask reception for a packet of wax in case this happens).
Q
How do I clean my teeth?
A
Since the brace is fixed you cannot remove it for brushing. It is extremely important to spend extra time brushing all around the brace and especially the gums. If the dirt builds up then your gums will bleed a lot (gingivitis) and your teeth will decay. Special brushes and fluoride mouthwashes for daily use can usually be obtained from the receptionist of your dental surgery
Q
Will there be marks on my teeth when the brace comes off?
A
Poor cleaning and too many fizzy drinks can cause permanent decay marks.
The importance of thorough brushing and the use of a fluoride mouthwash cannot be emphasised enough.
Q
What about sports?
A
It is important to have a well fitting mouthguard for contact sports during treatment with fixed braces. 'Boil and bite' mouthguards available from sports shops are unsuitable for this as they have a tendency to damage the braces when they are being moulded. The British Orthdontic Society recommends that a customised mouthguard is made for each patient. Failing this, a good quality specialised mouthguard may be brought from reputable sports shops or online.
Q
How long before the brace is removed?
A
This really depends on how the teeth looked at the start and if extractions were necessary. Other factor also play a role. Generally, treatment without extractions will take 12-18 months, with extractions, 18-30 months.
Q
So how are the teeth kept straight after the fixed brace is removed?
A

During orthodontic treatment your teeth are held in position by your braces, but once they're removed, stretched elastic fibres in the gum try to pull the teeth back to their original position – something we call "orthodontic relapse". It takes time for these fibres to remodel and stop pulling on the teeth.

In our younger patients, continued growth of the jaws can also encourage the teeth to move once treatment has been completed. To help avoid orthodontic relapse we provide our patients with retainers, which hold the teeth in their new position.

You're most at risk of relapse just after your braces have been removed, then over time your teeth will begin to stabilise. But this doesn't mean you can stop wearing your retainer after a few months. To guarantee your teeth stay put, retainers are a lifelong commitment – thankfully they're both comfortable and discreet.

Q
How long do I need to wear retainers?
A

For as long as you'd like your teeth to remain straight…..

Removable retainers


We provide a set of removable retainers to every patient. They resemble a thin, clear gumshield, which fits snugly over your teeth to keep them stable. Sometimes referred to as Essix retainers, they are a comfortable and inconspicuous alternative to Hawley retainers, with plastic on the palate and metal hooks, which you may remember if you've had orthodontic treatment before.

Your removable retainers will be custom-made to fit to fit you perfectly. We'll take impressions of your teeth when we remove your braces and fit your retainers the following week. Don't worry if your teeth move slightly in the meantime – your retainers will squeeze everything back into place.

In most cases you'll only need to wear them at night. Keep them safe when you're not wearing them – they do have a tendency to disappear. If you'd like the reassurance of a spare set, we can organise this, please let us know at the appointment when your braces are removed.

Fixed retainers


For extra peace of mind, we also provide all of our private patients with fixed retainers. These consist of a thin, flat white gold wire, which is permanently glued behind the front teeth. We usually fit your fixed retainers as soon as your braces are removed, before we take impressions for your removable retainers.

Brush carefully a round your fixed retainer

Fixed retainers are very unobtrusive and you'll quickly forget they're there. Just make sure you give them a little extra tlc when you brush your teeth.