Orthodontics »
Fixed Braces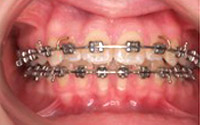 Fixed appliances are the most commonly used braces today, because they allow accurate positioning of the teeth.

The braces are securely fixed onto the teeth and cannot be removed by the patient. There are various systems available ranging from the standard metal brackets to clear or aesthetic brackets.
We also use the latest low-friction systems such as
Damon
(shown opposite) and
In-Ovation R
, which reduce treatment time.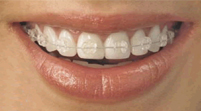 Fixed braces are now available with clear brackets, dramatically reducing the visibility of fixed braces. They are particularly popular for adults, where aesthetics are of the utmost importance.