Dental Implants
Dr Carlo Risoli and his colleague Dr Pedro Guttieres are highly skilled in the placement and restoration of dental implants.
Read more about Dr Guttieres below and what Southgate Dental Care can do for you: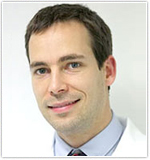 Pedro Gutierres
DDS, MSc Implantology, (Warwick)
GDC registration 11052
Dr. Gutierres is actively involved in Implant education. He is the Clinical Coordinator of a renowned International Dental Implant Program and regularly goes abroad to lecture on Implant Dentistry and demonstrate complex surgeries.
Dr Gutierres completed a Master's degree in Implant Dentistry at Warwick University, in 2011.
Over the years he has undertaken extensive training to become proficient in surgical procedures for all implant related oral surgery techniques, including Sinus Lift, guided bone regeneration and full mouth rehabilitations with fixed prosthesis. This allows him to restore the most complex cases, achieving predictable outcomes with the highest aesthetics.
Dr. Pedro Gutierres qualified at the prestigious Egas Moniz High Institute of Health Sciences in Lisbon 2006.
He worked in general practice in the UK shortly after qualifying. In 2007 he successfully completed a two and half year advanced international education program at the prestigious New York University College of Dentistry, and went on to complete a Master's degree in Implant Dentistry at Warwick University, in 2011.
Two years later Dr Gutierres interrupted his professional activity and moved to Brazil, where he trained with some of the leading names in Implantology. He graduated from CETO and concluded the International Advanced Program in Implant Dentistry from APCD.
What are Implants
Almost all dental implants in use today are made from titanium or titanium alloy, materials that have been shown over many years to be well tolerated by bone. The terms 'osseointegrated implants' or 'endosseous implants' are widely used to describe dental implants that can develop and maintain a close union with bone in order to support replacement teeth.

There are many different implant systems available and when competently used they can all deliver a highly reliable form of treatment.

A dental implant is essentially a substitute for a natural root and commonly it is screw or cylinder shaped. Each implant is placed into a socket carefully drilled at the precise location of the intended tooth. If an implant has a screw-thread on its outer surface it can be screwed into position and if it does not, it is usually tapped into place. The main aim during installation of any implant is to achieve immediate close contact with the surrounding bone. This creates an initial stability, which over time is steadily enhanced by further growth of bone into microscopic roughnesses on the implant surface.

In order to support replacement teeth, dental implants normally have some form of internal screw thread or post space that allows a variety of components to be fitted. Once fitted, these components provide the foundation for long-term support of crowns, bridges or dentures.
Summary of stages for routine dental implants
Diagnosis and treatment planning after which it may be necessary to carry out repairs or treatment to any remaining teeth.
In some cases – 'New teeth in a day' may be possible and suitable- in others the may need more time to bond (integrate) with the bone after they have been placed.
Implant placement is usually followed by a period of healing lasting from 6 weeks to 6 months. Often the implants are completely hidden beneath the gum, however one-stage procedures where the implant is visible from the time of placement are also commonplace. Stitches are normally removed 7 to 10 days after the implant placement.
Several visits may be needed over the next few weeks to adjust temporary teeth or dentures and to monitor healing.
Once the implants have healed uneventfully for the required time, they are uncovered if necessary and made ready to connect the teeth. Sometimes the time allowed for implants to integrate may be increased or decreased to suit the local bone conditions and the overall quality of healing.
In some cases the first teeth fitted to your implants are not the final ones, but replicas of the intended design. This stage can be used to assess the implants, control early loading and in areas where aesthetics are more critical, also gives the gums time to mature around each implant before final teeth are fitted.
Final teeth are commonly fitted between 3 and 9 months after the implants were first placed. The way that the teeth fit together is carefully adjusted so that they do not interfere with each other.
Regular examination and hygiene appointments are then all that is required to maintain the health of the mouth, teeth and implants.
What we offer at Southgate Dental Care.
Single tooth replacement
Replacing a missing or failing single tooth with an implant has great benefits over the alternative options of a bridge or denture.

Multiple tooth replacement
Two or more teeth are replaced with single implants, or by joining two or more implants together. If all the teeth in the jaw are misssing and sufficient implants can be placed into the jaw, full replacement of teeth can be achieved. In most situations the provision of a sufficient number of implants allows for fixed bridgework. However, a minimum of six implants is required and in some situations more are required if there is reduced volume and quality of bone.
Implant retained dentures
Dentures can be held securely in place with implants.
Denture wearers who have loose and painful dentures may especially benefit from implant supported dentures. Two implants in the lower jaw and four in the upper secure a denture replacing all the teeth.
The denture is attached, via locator attachments, to the implants and held firmly in place allowing the patient to eat with confidence, smile and laugh again.
This also allows the upper denture to be kept relatively small and not extend too far back over the palate
Bone Augmentation
There are various types of bone augmentation that may be required in different situations. Not everyone needs this as part of their treatment, but where there is a lack of bone Dr Gutierres is well trained for this type of procedure.
Guided Bone Augmentation
This is carried out at the time of implant placement.Bone is added around the implant due to small deficiencies in the bone. This will help to maintain the look of the implant crown where it comes out of the gum.
There are various material options to use for this technique, and we have chosen our favoured materials following careful research
Sinus Augmentation
A key to implant success is the quantity and quality of the bone where the implant is to be placed. The upper back jaw has traditionally been one of the most difficult areas to successfully place dental implants due to insufficient bone quantity and quality and the close proximity to the sinus
Sinus augmentation can help correct this problem by raising the sinus floor and developing bone for the placement of dental implants
Sinus augmentation has been shown to greatly increase the chances for successful implants if there is insufficient bone and minimal height.
Ridge Modification
Deformities in the upper or lower jaw can result in inadequate bone in which to place dental implants. This defect may have been caused by periodontal disease, wearing dentures, developmental defects, injury or trauma. Not only does this deformity cause problems in placing the implant, it can also cause an unattractive indentation in the jaw line near the missing teeth that may be difficult to clean and maintain.
To correct the problem, the gum is lifted away from the ridge to expose the bony defect. The defect is then filled with bone or bone substitute to build up the ridge
Finally, the incision is closed and healing is allowed to take place. Depending on individual needs, the bone usually will be allowed to develop for about four to 12 months before implants can be placed. In some cases, the implant can be placed at the same time the ridge is modified.
Ridge modification has been shown to greatly improve appearance and increase chances for successful implants. Ridge modification enhances restorative success both esthetically and functionally.
Block Grafts
When a lot of bone has been lost from the front part of the upper jaw, it is occasionally necessary to build this back using a block of bone from the patient. This bone is usually taken from the back of the lower jaw though sometimes it may instead be taken from the chin. This block of bone is securely attached to the deficient ridge using tiny titanium bone-screws and will allow dental implants to be placed once the block graft has healed.

Sedation Services
Although the treatment offered is pain free, sedation is available for more difficult cases or overly anxious patients.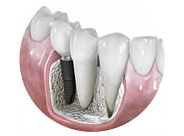 Details of the implant systems that we offer.
We are skilled in the use of all the established implant systems including Nobel Biocare Branemark, Straumann , Biomet 3i etc. and will use whichever system is most appropriate for each individual patient.
«
Back to Dental Implants